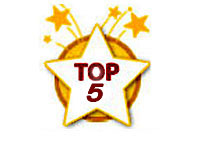 Today we continue our weekly installment highlighting the best of the patent blogosphere from the past week. If there are any patent blogs you think should be highlighted by our Top 5, please comment on this post and we'll check them out.
1) Patently-O: Gene Patent Debate Returns to the Federal Circuit – This post reports on SCOTUS' recently issued GVR order in Association for Molecular Pathology v. USPTO and Myriad Genetics (Fed. Cir. 2012). According to the post, "The Federal Circuit has now released a new briefing schedule — asking the parties to file supplemental briefs by June 15, 2012 addressing the issue: What is the applicability of the Supreme Court's decision in Mayo to Myriad's isolated DNA claims and to method claim 20 of the '282 patent?"
2) Green Patent Blog: Clean Energy Patent Growth Index Shows Record High for 2011 – This post shares the findings of the Heslin Rothenberg firm's Clean Energy Patent Growth Index (CEPGI) 2011 Year in Review, highlighting that granted green patents were at an all time high of 2331 for last year, a rise of 450 patents, or 24%, over 2010.
3) CAFC Blog: BD Stumbles on the Fine Functionality Line Between Patents and Trademarks – This post summarizes In Re Becton, Dickinson and Company, and breaks down how the CAFC ruled that a patent holder cannot convert functional aspects of a utility patent into a trademark due to acquired secondary meaning.
4) IP Watchdog: 75% – The Real Rate of Patent Applicant Success on Appeal – This post, guest written by Kip Werking, discusses how the rough percentage of reversals among all patent appeals is approximately 75%, whereas reversals among TTAB decisions is only at about 33%. Werking shares how he reached this conclusion using the PatentCore™ database.
5) Patent Docs: U.S. Trade Representative Issues 2012 Special 301 Report – This post discusses the Office of the United States Representative's 2012 Special 301 Report, which focused on the state of intellectual property rights worldwide, identifies thirteen countries on a "Priority Watch List" and another 28 countries on the "Watch List," all relating to deficiencies in intellectual property protection in these countries.
Tags: Association for Molecular Pathology v. USPTO and Myriad Genetics, CAFC, Clean Energy Patent Growth Index (CEPGI) 2011 Year in Review, green patents, In Re Becton Dickinson and Company, Office of the United States Representative's 2012 Special 301 Report, patent appeals, TTAB decisions