To break up the monotony of all work and no play, I wanted to share with you a great slideshow from Inc.com. The slideshow lists 12 "strange and amazing" patents that are remarkable, and mostly ridiculous. From the high-five machine (US 5356330), to the kissing shield (US5727565), to the burial structure for human remains and significant memorabilia  (US 6799399) whose resemblance to the Great Pyramids at Giza is uncanny.
Check out the slide show in its entirety here. In case you thought I was kidding about the remarkable and ridiculous nature of these patents, check out the drawing of the patent for the Interactive Life-Sized Bowl of Soup (US 6168531). That's right, an interactive life-sized soup bowl not only exists, but there's a patent for it.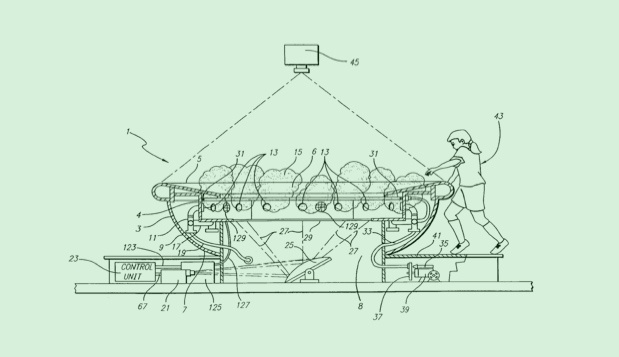 R. David Donoghue, author of Chicago IP Litigation blog and Practice Center Contributor, recently attended the 9th Annual Rocky Mountain IP & Technology Institute.  David will be writing several articles discussing highlights from the Institute.  In the first of the series, David focuses on the Judges panel wherein they discussed best practices in intellectual property litigation.
One of the highlights of the Institute was a panel of sitting and retired federal judges sharing their views on intellectual property litigation, with a focus upon patent litigation. What follows is the second and final installment of the highlights from that panel. Last week, I provided highlights from Judge Philip Brimmer (D. Col.) and retired Judge James Rosenbaum (D. Minn.).  What follows is the highlights of the thoughts from the two other panelists, Magistrate Judge Boland (D. Col.) and retired Judge McKelvie (D. Del.). (more…)

The following post was written by Gene Quinn , of IPWatchdog and Practice Center Contributor.
Lately I have been this "educational" mindset more than is usual. Not only am I gearing up for the run of summer PLI Patent Bar Review Courses, which begin [this] week in New York City, but at the beginning of June I will be teaching a Patent Prosecution course for a week at the John Marshall Law School in Chicago, Illinois. What better topic to revisit than the importance of using the right language when describing an invention and dealing with an examiner. Patent attorneys darn near need to be magicians when it comes to language, which is the primary tool of our craft. Picking the right word and the right way to say things is critical. Even more critical, perhaps, is not saying the wrong thing, or worse yet saying something that is clear but not what you intended.
When dealing with the topic of picking and using the right language to describe an invention in a patent application it is worth observing that having a dictionary and thesaurus at the ready is a pre-requisite to being a good drafts-person. If you are not consulting a dictionary and thesaurus you are doing yourself, or your client, a tremendous disservice. But picking the right word is but one of the problems, and probably the easiest to deal with if you train yourself not to assume you have a Shakespearean grasp of the English language and force yourself to consult that dictionary and thesaurus. So today I thought I would focus on a couple big ticket matters that are easy to overlook, at least when patent novices are doing the drafting.
Click here for the full IPWatchdog article.

PLI's Patent Litigation enhances your ability to prevail at trial while helping you cut the costs and complexity of litigation.
Many of America's leading patent litigators guide you through all the litigation stages, helping you to understand various infringement actions and their respective burdens of proof; conduct comprehensive pre-suit investigations that streamline your cases; develop potent case themes; assemble strong litigation teams; get an early edge over opponents during discovery; reduce expenses by developing smart litigation budgets; maximize the persuasive impact of documents, exhibits, and lay and expert witnesses; and fortify your case while controlling costs by making savvy use of computers, jury consultants, and litigation support vendors.
Patent Litigation also shows you how to spot and shore up weaknesses in your case; make effective pretrial, trial, and post-trial motions; enhance your direct-examination and cross-examination skills; accurately measure and prove the amount of damages; and achieve favorable settlements when litigation is not the way to go.
Updated at least once a year, Patent Litigation is an indispensable practical resource for every patent litigator.