Recently, I had the opportunity to sit down with Paul Michel, who we in the patent community know as the former Chief Judge of the United States Court of Appeals for the Federal Circuit. When Judge Michel stepped down as Chief Judge and retired several years ago, he told me that he decided to retire so he could say what needed to be said on behalf of the patent system, something he felt he couldn't do while a member of the federal judiciary. Judge Michel has been true to his promise. He keeps an active schedule.
Judge Michel has been generous with his time over the past several years, and I have interviewed him on a number of topics. Most recently we discussed the Supreme Court's patent decisions during the October 2013 term, spending most of our discussion on Alice v. CLS Bank.
Below are the highlights of my interview with Judge Michel. If you would like to read the entire interview, which lasted for approximately one hour and spans over 9,000 words, please see: Judge Michel says Alice Decision 'will create total chaos'.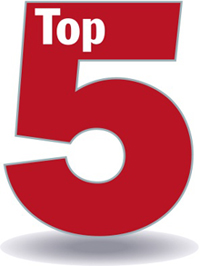 Today we continue our weekly installment highlighting the best of the patent blogosphere from the past week. If there are any patent blogs you think should be highlighted by our Top 5, please comment on this post and we'll check them out.
1) Patently-O: Overlapping Copyright and Patent Rights – This post takes a look at the Oracle v. Google (N.D. Cal. 2012) and how Oracle has argued that Google's actions constitute both copyright and patent infringement  as the court considers whether Google improperly relied on Java OS code when developing its Android operating system.
2) Patent Docs: Otsuka Pharmaceutical Co. v. Sandoz, Inc. (Fed. Cir. 2012) – Following the Federal Circuit's decision in Otsuka Pharmaceutical Co. v. Sandoz, Inc., this post provides an explanation of what makes a new chemical compound prima facie obvious, and the differences between obviousness and obviousness-type double patenting for a chemical composition-of-matter invention.
3) IP Watchdog: Patents World-Wide: Deciding Where to Pursue Patent Rights – This post discusses the means through which a company pursue patent protection around the world. The Patent Cooperation Treaty  and popular countries to get patent protection are highlighted, as is the impact of filing international patent applications via these different means. (more…)

Kenneth W. Brothers, a Partner at Dickstein Shapiro LLP and a presenter at PLI's upcoming 5th Annual Patent Law Institute, sent in this article he wrote along with Philip G. Hampton, II wherein they discuss what has happened since the Supreme Court's Bilski decision.  Here is an excerpt and a link to the full article.
After the Supreme Court issued its decision on Bilski v. Kappos, we predicted that much ink would be spilled analyzing the fractured opinions and opaque basis for the majority decision.  While the PTO has issued interim guidelines, since June, only one district court has attempted to apply the Bilski decision and the decision has only been mentioned in two Federal Circuit decisions.
Applying Bilski. The patent bar will devote years deciphering this decision, since the majority decision failed to enunciate either a clear standard for patentability under §101 or clear guidelines for determining what is a valid business method patent.  We expect that lower court decisions likely will fall into three general categories:  (1) adherence to the Federal Circuit's machine-or-transformation test; (2) seat-of-the-pants determinations of whether the patent-in-suit is directed to abstract; or (3) a genuine attempt to weigh multiple factors to determine patentability. (more…)