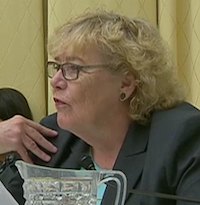 On Friday, June 28, 2013, three members of the House of Representatives from Northern California submitted a bill called the Patents and Trademarks Encourage New Technology (PATENT) Jobs Act. The purpose of the legislation is to exempt the United States Patent and Trademark Office from sequestration budget cuts and to allow the USPTO full access to the collected user fees.
The text of the bill is not long. The main provisions contained in Section 1 of the bill under the title "Termination of Sequestration in Fiscal Year 2013 for the Patent and Trademark Office," says:
"Notwithstanding the presidential order issued on March 1, 2013, under section 251A of the Balanced Budget and Emergency Deficit Control Act of 1985 (2 U.S.C. 901a), on and after the date of the enactment of this Act, the budgetary resources sequestered under such order with respect to the United States Patent and Trademark Office shall be available for obligation for the same purpose and in the same manner as if such order had not been issued. The other section of the bill, Section 2, would exempt the USPTO from sequestration budget cuts for fiscal years 2014 through 2021."
(Pictured: Rep. Zoe Lofgren)

Scott McKeown, Partner at Oblon Spivak and Practice Center Contributor, sent in this article discussing the status of the pending patent reform legislation.
Debt Ceiling Raised, Job Bills On Deck
With debt ceiling armageddon now averted in the 11th hour (depending upon your perspective), Congress has turned its attention to election season addressing the economy. As previously discussed, the patent reform legislation has long been touted as a "no cost economic stimulus" that will create jobs.
While there are differences with H.R. 1249 and S.23, most notably concerns over fee diversion, the Senate has indicated a willingness to accept the House bill.
Today, Senate Majority Leader Harry Reid (D-Nev.) has identified patent reform as the first jobs bill to be taken up in the Fall term. To ensure quick enactment Senator Reid has indicated he will file cloture today (to remove the "hold") so that the Senate can take up the bill immediately when the Senate convenes in September. (more…)

The House voted to move ahead with debate on patent reform, but a spokeswoman for Majority Leader Eric Cantor,R-Va., said a final vote is now expected on Friday. The latest delay is a result of a House Rules Committee decision that an end to fee diversion should not be included in patent reform.  This latest change has caused many industry groups who supported the bill to now change their position.  What does this mean for the future of patent reform?  Here is what the patent community is saying about these latest turn of events….
Lack of Commitment on PTO Funding is Killing Patent Reform (IP Watchdog)
House votes to proceed with patent, drilling bill after point of order (The Hill)
Special Interest Patent Bill Benefits Foreign Multinational Corporations Over U.S. Inventors (Patent Barisatas)
Spending Concerns Delay Patent-Reform Vote (National Journal)
BIO Expresses Disappointment With House Vote On Patent Reform ( Medical News Today)
Committee Approves Patent Reform Proposal (Committee on the Judiciary)
Long Overdue' US Patent Reform Deal Reached; House Could Vote This Week (Intellectual Property Watch)
Patent Reform' Will Hurt Innovation (Connexion)
Patent Reform Update II (Patentdocs)
Patent Bill Unites Past Enemies (Roll Call)