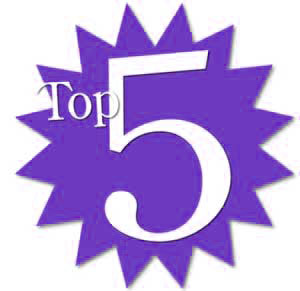 Today we continue our weekly installment highlighting the best of the patent blogosphere from the past week. If there are any patent blogs you think should be highlighted by our Top 5, please comment on this post and we'll check them out.
1) Patents Post-Grant: Update from the Central Reexamination Unit – This post reports on the Central Reexamination Unit's update on the USPTO's efforts to refine the patent reexamination process, and that the stream line proposals of 2011 are still being reviewed.
2) Patent Docs: USPTO Seeks Comments on New Sequence Listing Standard – This post summarizes the notice published by the USPTO in the Federal Register regarding  an international effort to revise the standard for Sequence Listing submissions. The post also shares how comments regarding the proposed standard can be submitted for review.
3) IP Watchdog: Deliberate Success: Developing a Winning Patent Strategy – Successful companies depend on their 21st century patent strategies. This post discusses why this is important and how one can go about developing a winning patent strategy using engineering for the human element, training and IP audits, and learning from success.
4) The Patent Prospector: Copycat – This post discusses the Apple, Inc. v. Samsung Electronics appeal from the United States District Court for the Northern District of California. The district court found that "Apple had failed to show a likelihood of success on the merits" in tying to get a preliminary injunction against Samsung over design and utility patents.
5) FOSS Patents:  Apple Asks the ITC to Throw out Five Patents HTC Received From Google Last Year – This post provides a detailed analysis of a motion filed  on behalf of Apple in the investigation of HTC's second ITC complaint against Apple. The post explains that, "Apple says HTC does not have the right to bring an infringement lawsuit in general, or at least an ITC complaint in particular, over those patents."