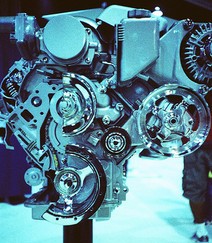 On December 5, 2012, the United States Court of Appeals for the Federal Circuit issued an opinion in Cummins, Inc. v. TAS Distributing Co, Inc.  This is the latest decision in a legal battle between the two companies that has been waged since 2003.  This was the third of three separate actions regarding idle-control technologies for heavy-duty truck engines.
In this latest filed action, which was brought in 2009, Cummins sought a declaratory judgment that claims of  TAS's U.S. Patent No. 5,072,703 ("the '703 patent") and U.S. Patent No. 5,222,469 ("the '469 patent") were invalid and unenforceable. In the United States District Court for the Central District of Illinois, it was determined via summary judgment that Cummins' declaratory judgment suit against TAS was barred by the doctrine of res judicata in light of an earlier litigation.
On appeal, Judge Reyna, writing for the majority (with Judges Newman and Bryson), agreed that Cummins could have pursued claims regarding invalidity and unenforceability of the TAS patents in prior litigation, which featured the same parties, arose from the same group of operative facts, and resulted in a final resolution on the merits. Thus, the Federal Circuit determined that res judicata barred Cummins' defenses under 35 U.S.C. §§ 102 and 103 in the present case.
Litigation Part III
We pick up the story of this patent battle that simply won't go away with Cummins initiating what the Federal Circuit referred to as TAS III.  In TAS III, Cummins sought to have the district court: (1) dismiss TAS's suit in TAS II; (2) declare the '703 and '469 patents invalid under 35 U.S.C. §§ 102 and 103; (3) declare the Master License Agreement void for patent misuse; (4) declare that TAS engaged in patent misuse for improperly enforcing the TAS patents; (5) declare the '703 and '469 patents unenforceable due to inequitable conduct; and (6) rescind the Master License Agreement in its entirety.
In forwarding these assertions, Cummins relied on three main arguments. First, that products embodying Temp-A-Start or Temp-A-Stop technologies were sold as early as 1986, more than a year  before the filing dates of the TAS patents, and that these sales were not disclosed to the PTO. Second, that the actual inventor of the '469 patent was not the individual listed on the patents, but rather his brother. And third, that there is a three-year gap in the chain of title of the '703 patent such that there was no right to assign it.
So why did Cummins think that they would be able to relitigate?  They claimed an equitable exception to res judicata on the grounds that TAS made contractual misrepresentations that prevented Cummins from raising the patent-based defenses in TAS I. Unfortunately for Cummins, the district court did not buy this argument and pointed to testimony and evidence showing that Cummins was informed prior to TAS I that TAS had sold potentially invalidating variations of the system since at least the 1980s.
Cummins also argued that res judicata did not apply because the district court in TAS I lacked proper subject matter jurisdiction under the Declaratory Judgment Act, 28 USC 2201(a).  Cummins argued that because it continued to pay royalties at the time of TAS I, there was no case or controversy regarding infringement. Judge Reyna, however, pointed out that this wasn't true, citing MedImmune, Inc. v. Genentech, Inc., saying:
We find no jurisdictional bar that would have prevented Cummins from asserting its patent-based defenses in response to TAS's declaratory judgment action in TAS I, notwithstanding that Cummins continued making royalty payments. See MedImmune, Inc. v. Genentech, Inc., 549 U.S. 118, 130 (2007) (citing Altvater v. Freeman, 319 U.S. 359 (1943)) ("[A] licensee's failure to cease its payment of royalties d[oes] not render nonjusticiable a dispute over the validity of the patent."). In addition, regardless of  whether Cummins could have sought affirmative relief in TAS I in the form of a declaratory judgment counterclaim, it plainly could have raised its patent-based defenses in response to TAS's contract claims, but it did not do so.
At the end of the day, the Federal Circuit approached this as a case where one party just won't let go. Cummins seemed to be grasping at straws.  The district court, despite viewing the evidence in a manner most favorable to Cummins, just couldn't come up with any reason why Cummins had not raised these issues earlier. The Federal Circuit per Judge Reyna could find no error in the district court's analysis.
Despite the rather easy nature of the decision, the case was listed on the CAFC website as precedential. Frankly, I'm not sure why it wasn't a Rule 36 summary affirmance, particularly given how Rule 36 summary affirmances have been on the rise of late.  Nevertheless, it is a good reminder — perhaps mostly for clients — of the consequences for failure to bring everything one can bring during litigation. Rarely are there second bites at the litigation apple. Issues of res judicata and collateral estoppel really do prohibit bringing up what could have and should have been brought up before.