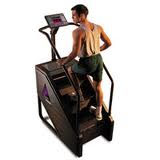 On Friday, April 26, 2013, the United States Court of Appeals for the Federal Circuit overturned a district court decision in a patent dispute between Biosig Instruments, Inc. ("Biosig") and Nautilus, Inc. ("Nautilus"), sending the case back to the United States District Court for the Southern District of New York, Judge Alvin K. Hellerstein.
The dispute between the parties has been ongoing for years, stemming from the late 1990s when Biosig was in discussions with Nautilus's predecessor Stairmaster Company regarding Biosig's patented technology. Despite these discussions, Stairmaster Company, and later Nautilus, began selling exercise equipment that Biosig alleges infringes its patented technology. These accused products consist of heart rate monitors mounted on exercise equipment.
Biosig is the assignee of U.S. Patent No. 5,337,753 ("the '753 patent"), which is directed to a heart rate monitor associated with an exercise apparatus and/or exercise procedures. Biosig brought a patent infringement action against Nautilus for infringement of claims 1 and 11 of the '753 patent. After claim construction, Nautilus filed a motion for summary judgment seeking, in relevant portion, to have the '753 patent held invalid for indefiniteness. The district court granted Nautilus's motion, and Biosig appealed. More specifically, on invalidity, the district court granted Nautilus's motion for summary judgment, holding that the '753 patent's "spaced relationship" term as recited in claim 1 was indefinite as a matter of law.
After the parties completed summary judgment briefing but before the hearing, Nautilus filed a third request for reexamination of the '753 patent on January 25, 2012, and again, Nautilus cited Fujisaki as a primary prior art reference. This time, on February 17, 2012, the PTO denied Nautilus's request, finding that there were no substantial new questions of patentability raised by the request. Biosig was notified of the PTO's denial of Nautilus's third reexamination request after the district court's summary judgment hearing and decision. In light of this new fact, Biosig moved for reconsideration of the district court's decision granting Nautilus's motion for summary judgment of invalidity, which the district court denied on June 12, 2012.
According to the patent, prior art monitors did not eliminate signals given off by skeletal muscles ("electromyogram" or "EMG" signals), which are brought about when users move their arms or squeeze the monitor with their fingers. Id. col. 1 ll. 19–22. Because EMG signals are of the same frequency range as electrical signals generated by the heart ("electrocardiograph" or "ECG" signals), EMG signals can mask ECG signals, rendering heart rate determination while exercising difficult.
The '753 patent discloses an apparatus preferably mounted on exercise equipment that measures heart rates by, inter alia, processing ECG signals from which EMG signals are substantially removed.
Claim 1 is representative and recites, in relevant part:
1. A heart rate monitor for use by a user in association with exercise apparatus and/or exercise procedures, comprising:

an elongate member;

electronic circuitry including a difference amplifier having a first input terminal of a first polarity and a second input terminal of a second polarity opposite to said first polarity;

said elongate member comprising a first half and a second half;
a first live electrode and a first common electrode mounted on said first half in spaced relationship with each other;

a second live electrode and a second common electrode mounted on said second half in spaced relationship with each other;

said first and second common electrodes being connected to each other and to a point of common potential . . . .
In addition to the capability of substantially removing EMG signals, claim 1 recites a monitor, a means for measuring time intervals between heart pulses, and a means for calculating the heart rate of a user using the measured time intervals.
The Federal Circuit did recognize that the district court was correct in pointing out that the specification did not define the term "spaced relationship," but found the intrinsic evidence to be sufficiently concrete.
Turning to the intrinsic evidence, the district court is correct that the specification of the '753 patent does not specifically define "spaced relationship" with actual parameters, e.g., that the space between the live and common electrodes is one inch. Nevertheless, the '753 patent's claim language, specification, and the figures illustrating the "spaced relationship" between the live and common electrodes are telling and provide sufficient clarity to skilled artisans as to the bounds of this disputed term.
Ultimately, the Federal Circuit determined that the disputed term, "spaced relationship," does not suffer from indefiniteness. The Court, per Judge Wallach concluded:
Because the term was amenable to construction, indefiniteness here would require a showing that a person of ordinary skill would find "spaced relationship" to be insolubly ambiguous—that it fails to provide sufficient clarity delineating the bounds of the claim to one skilled in the art. In this case, a skilled artisan would find such boundaries provided in the intrinsic evidence.