Written by Brandon Baum , of baum legal and Practice Center Contributor.
Question: How do you turn this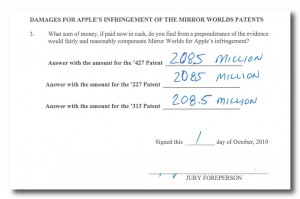 Into this?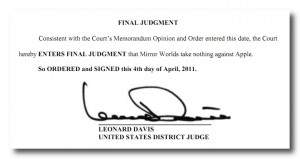 Answer: By failing to establish each and every requirement of the patent law on the record at trial in a manner sufficient to sustain the jury's verdict.
Mirror Worlds (MW) accused Apple of infringing three patents allegedly used in Apple's "Cover Flow," a feature familiar to ipod and Mac OS users. The asserted claims of the three patents-in-suit included a variety of method and system claims, and MW relied on theories of both direct and indirect infringement, and sought to prove infringement both literally and, for some limitations, under the doctrine of equivalents. The jury found infringement and awarded MW a total of $625.5 million in damages. However, the trial judge overturned that verdict and granted judgment instead to Apple. Why? Did MW overlook some subtle nuance of patent law? Was the technology just too complex for the jury to understand? No, the explanation is far far simpler than that.
As a simple country adjunct professor, there are two matters of hornbook patent law that I expect every one of my patent litigation students to know:
To prove indirect infringement, you must prove direct infringement by someone else (typically the end-user); an
To show a limitation is met under the doctrine of equivalents requires particularized testimony and linking argument.
Frankly, these are not at the high-end of what we cover in class. Instead, they are fundamental tenets of patent law, and we tend to focus more on the techniques one uses to meet these requirements, such as using surveys, expert testimony, instruction manuals, and the like.
Thus, it is remarkable–even stunning–that plaintiff Mirror Worlds (MW) lost its $626 million jury verdict against Apple simply because it neglected to establish these two requirements at trial.
As to the first requirement, proof of indirect infringement, MW failed to offer any evidence at trial of direct infringement by Apple's customers:
Left with only a direct infringement theory, MW failed to offer any evidence that Apple itself performed the steps of the method claims, even in testing. Thus, the trial court ruled that MW had failed to prove infringement of the asserted method claims.
MW also asserted system claims against Apple, but again failed to satisfy the requirement of proof. As to these claims, MW relied on the doctrine of equivalents to establish that Apple's "Cover Flow" feature met claim limitations calling for the use of a pointer to riffle through a stack of documents. However, MW's expert never even bothered to apply the classical function-way-result test, and gave only conclusory testimony as to the insubstantial differences test.
According to the trial court,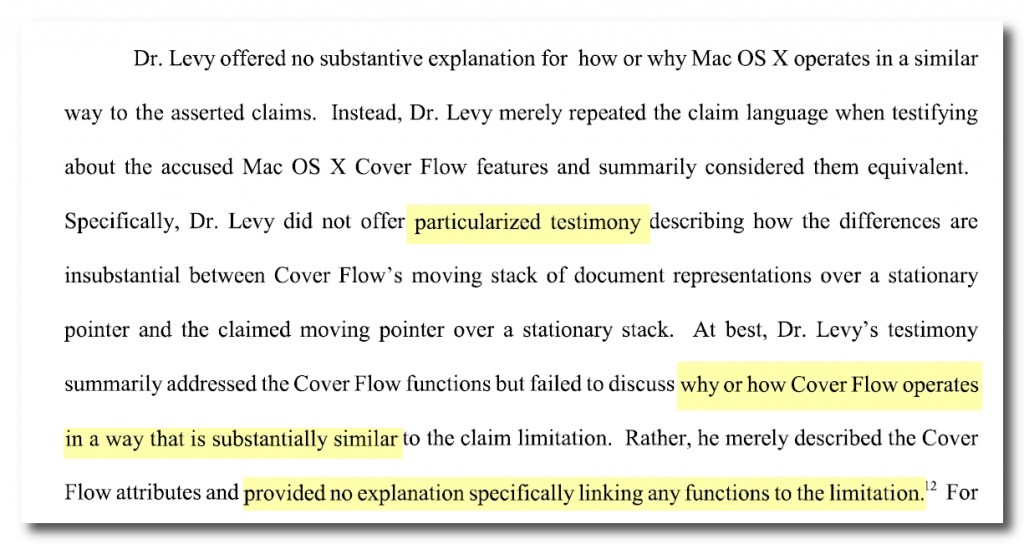 Absent particularized testimony applying at least one of the two tests for equivalents, the district court had no option but to find for Apple.
Finally, the district court eloquently summed up the obligations of counsel to establish an evidentiary record at trial: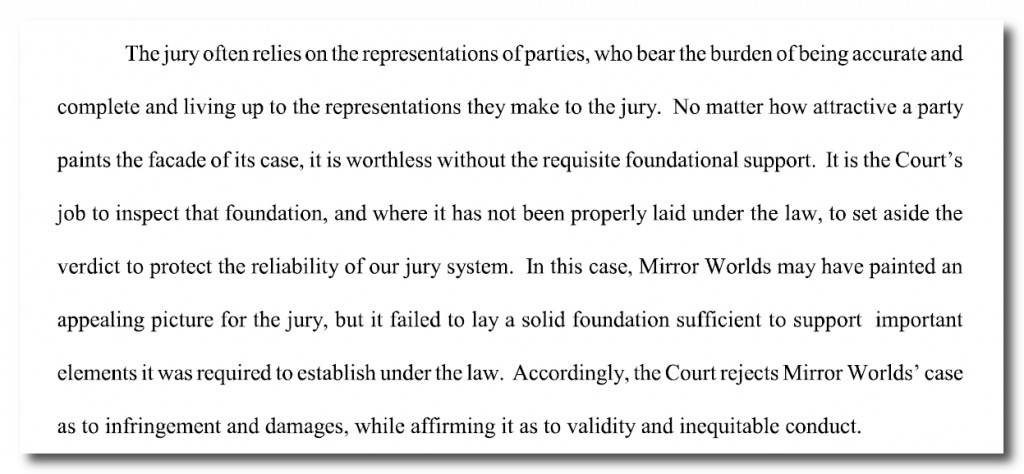 With proper preparation and forethought, MW would have undoubtedly been able to meet its obligation to lay a solid foundation to support the jury's verdict. Failing to do so cost it a $626 million jury verdict.
Tags: "cover flow", Apple, method claims, Mirror Worlds